About JWD
Work smarter, not harder, with Job Well Done.
Job Well Done was built from the ground up for the stone installation industry. It was designed to help provide better communication between the field, office, and customers.
Learn about Job Well Done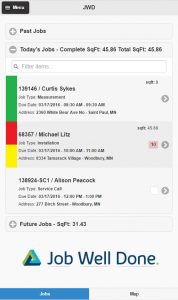 Job Well Done was created by The OHO Group based on first-hand installer experience and knowledge. It was built from the ground up for the stone installer industry to alleviate information and communication gaps. As a business owner, you know your craft and you know your team. Let Job Well Done help you take your company to the next level.
Alleviate common stone installation industry challenges regarding management and communication between your front office and field teams. Job Well Done provides a mobile platform for tracking job information and updates to reduce delay and disconnect.
Eliminate extra paperwork and duplicate entries
Send schedule updates and implement standardized forms in a digital format available on any device
Attach before and after pictures
Instantly generate alerts if an issue is identified
Collect customer signatures and much more
Digitize custom forms, Home Depot forms, and Lowes forms
We are continuously improving our product by listening to feature requests and customer feedback to continue to help streamline many business processes to improve the stone and countertop industry.